UESN Yorktown Class Carrier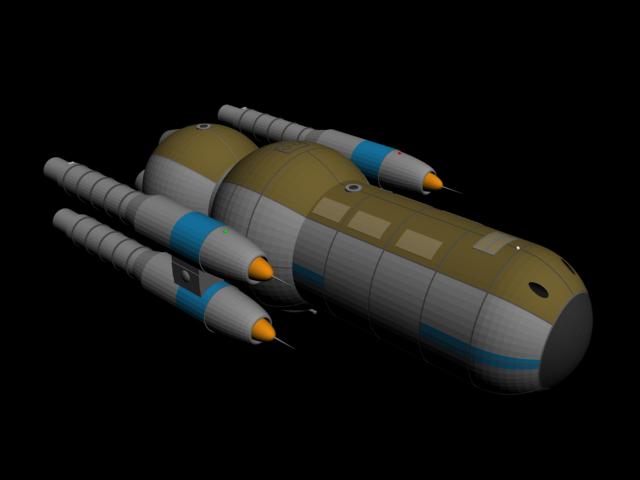 In June 2158, the M/AM/fusion-powered MINOTAUR fighter (P/A-33) and the M/AM-powered YORKTOWN carrier (CVM-5) were introduced in an attempt to overcome the operational limitations of early M/AM ships by combining the speed and range M/AM-powered warp flight with the maneuverability of high-impulse fighters. YORKTOWN was based on the PIONEER-class cruiser, which had entered service in 2154 and had itself been developed from the BISON-class transport. Whereas PIONEER had a large fusion reactor, a single midline Pachyderm III warp nacelle, and two auxiliary directional Jaguar I nacelles, YORKTOWN carried a new SSWR-IIIB M/AM reactor and four paired Jaguar III warp nacelles. The impulse drive and its fusion reactor were moved to the extreme stern. At the front of YORKTOWN''s cylindrical forehull, which had been lengthened by some 20 m, were sensors and the navigational deflector, command centers, the computer core, crew facilities, and life-support machinery. In the center section of the forehull were docking cradles for 5 MINOTAUR long-range fighters. In the aft section of the forehull were auxiliary deuterium tanks, the missile room, and support facilities for the MINOTAUR fighters. With a displacement of some 670,00 tons, YORKTOWN was by far the largest Earth-designed warship produced to that time and would not be surpassed until the AMBASSADOR class was launched in the 2330s.
The MINOTAUR/YORKTOWN system proved extremely effective in both its long-range strike and antiship roles. Both ships were at least twice as fast as the fastest Romulan cruisers and fighters and were also able to evade or outrun most enemy missiles until late in the war. In ship-to-ship combat at warp speeds, a flight of five MINOTAURs could easily run down any Romulan warship or cargo vessel and overwhelm its defenses. At sublight speeds, MINOTAUR's relatively low weight allowed it to hold its own against Romulan warp-capable fighters or even sublight fighters. Moreover, because of its superior speed, MINOTAUR could disengage and escape at will if it found itself in danger.
From 2158 to 2161, 46 YORKTOWN carriers and 415 MINOTAURs fighters were produced at the San Francisco, Utopia Planitia, and Proxima Centauri fleet yards. Most MINOTAURs were of the original Mark I type, but 59 were of the Mark II type, whose command hull was lengthened 6 m to accept the improved Python warp missile. Although MINOTAURs were usually operated from YORKTOWN carriers, they were also launched from starbases or space stations in the last year of the war. A small number of MINOTAUR fighters were also used on a trial basis by the Andorian Great Blue Fleet, which generally operated ships only of Andorian design. By mid-2159, however, the MINOTAUR/YORKTOWN system was beginning to be superseded in its long-range strike and anti-ship roles by COMET-class ships, whose smaller but more powerful SSWR-IVA M/AM reactor and twin warp nacelles allowed greater maneuverability, speed, and range at warp. That MINOTAUR was not completely replaced by COMET is a reflection of its much better performance at sublight speeds and teething problems with COMET's new M/AM reactor.
In addition to numerous strikes against ground-based targets and antishipping raids, MINOTAUR and YORKTOWN ships participated in most major engagements of the last 2 years of the war, including the Battle of the Krakowski Void and the Battle of Cheron. In several campaigns, notably Yadalla and Kaph-42, MINOTAURs were used to provide low-orbit fire support during Marine Corps landings. A total of 7 YORKTOWN carriers and 41 MINOTAUR fighters were lost in combat from 2158 through 2160. After the war, most Mark I MINOTAURs were retired from service, but many Mark II's were fitted with SSWR-VA warp reactors and twin nacelles and continued service as long-range strike fighters into the 2180s. In addition, many retired MINOTAURs were purchased by private citizens and, nearly 200 years after their withdrawal from service, have had a long second career as sport racers. After the war, many YORKTOWN carriers were converted to fast transports and tankers.
Information provided by The Starfleet Museum and Masao Okazaki